I am fortunate enough to live in a very nice house.
That being said this very nice house was built in 1952.
Closets were not a priority.
We have two bedrooms upstairs and two lower,
since we don't have kids yet, it seemed perfect for a walk in closet!
We had purchased the Rubbermaid Home free closet system from Lowe's
There was a total of 2 whole systems plus one add on rack system.
Anyway we threw them up on the wall and it was amazing!
This is where we started, most of the clothes on this side are "dressy"
or work appropriate.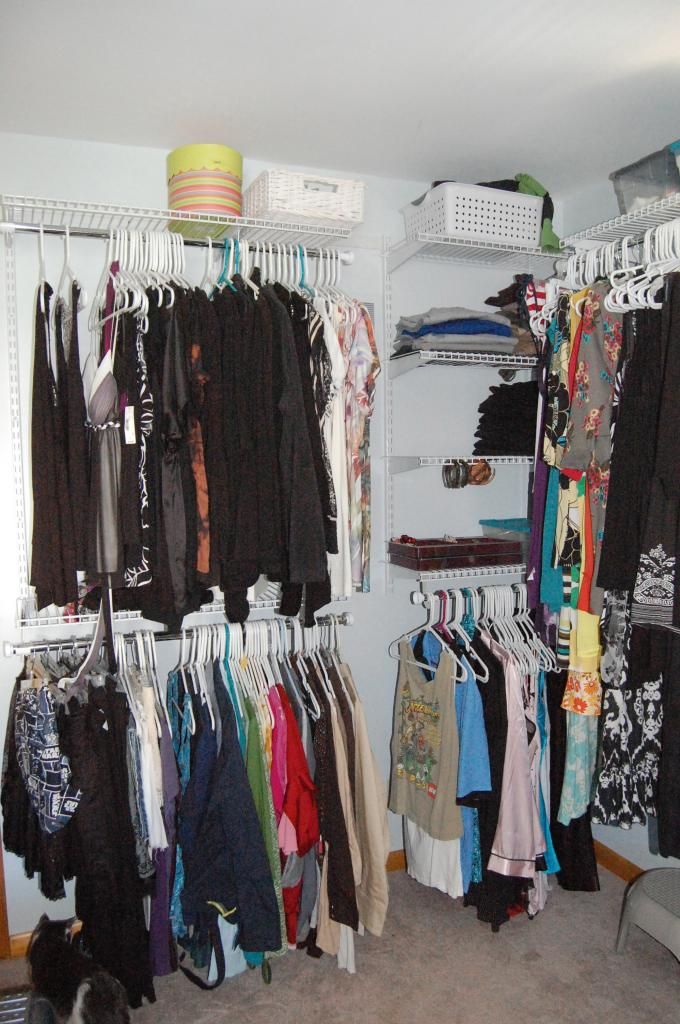 The lower right side is work out clothes and lingerie.
All my dresses hang to the far right.
My plugs also have a home here too, underneath all of my dress pants!
They stack ever so nicely! the trays are jewelry trays from Bed bath and beyond.
I also store pendants and rings here too.
Moer of my body jewelry lives in the plastic bin to the right.
The shelves are even perfect for storing my hanging style ear decorations!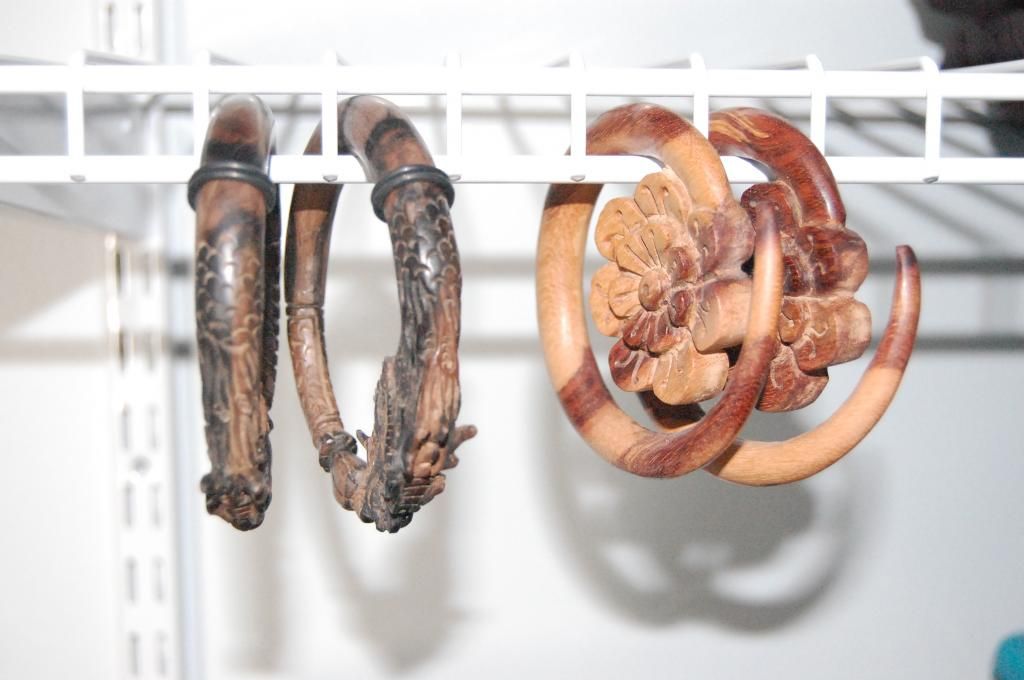 When I had my craft room at our old house I had two white cube organizers
that we stacked to give me more storage.
There isn't much there now but I still have a ton of make up and beauty supplies to go through.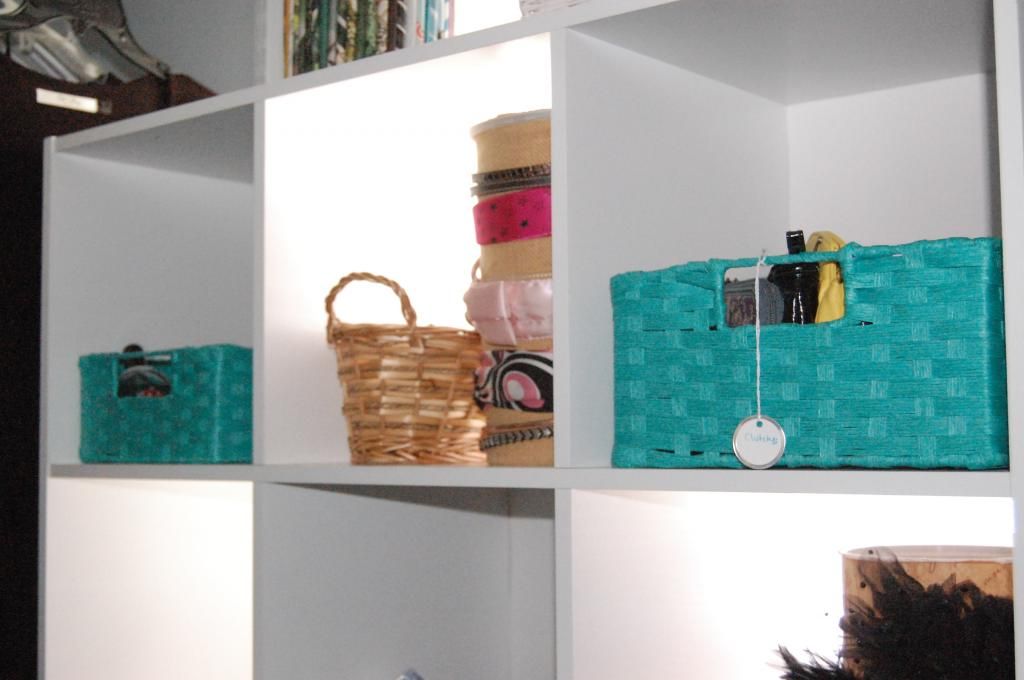 Wallets, headbands, nylons and my Gel polish live here.
Black capris, short leggings, jeans that are too small currently and sweat pants all live here
with room to grow!
I had one of the most helpful cats helping me sort and organize!
A basket is the easiest way to get bumble out of the clothes I was trying to hang up!
The far right closet side has all of my casual clothes.
All hoodies, leggings, jeans and t-shirts all live on this side.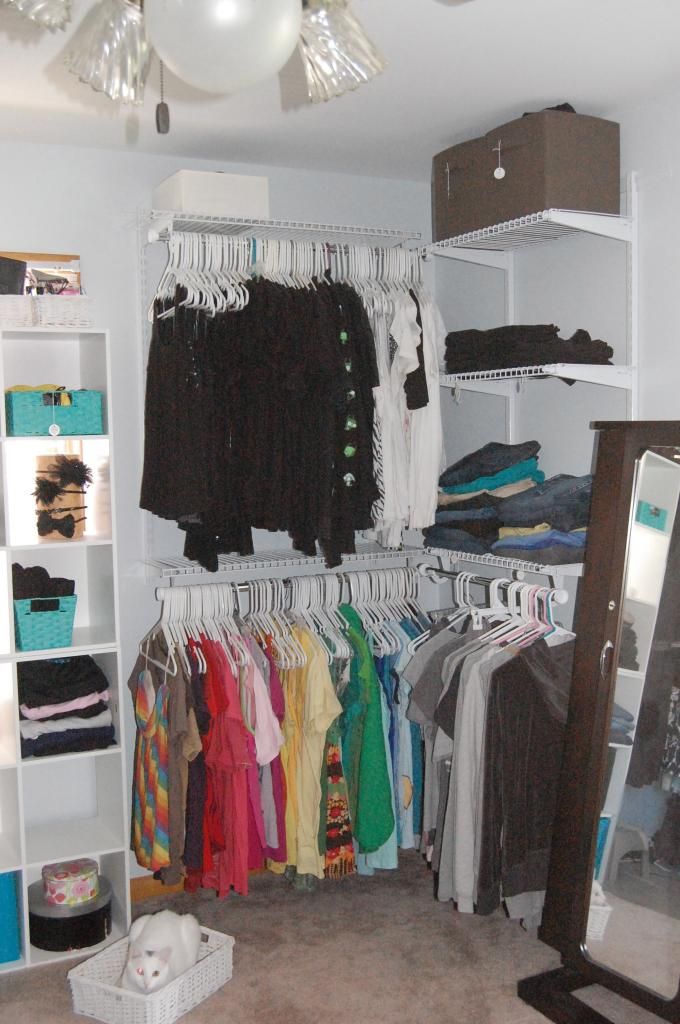 ( I know you are crazy jealous of that light fixture!)
My jewelry armoire is also on this side, because that's the only place it would fit.
On the far right side I have xxl T-shirts and black shorts in the top cubes,
Black yoga pants and long leggings and then I have pants and shorts
I wear regularly on the bottom shelf.
Because I'm having a hard time with my weight right now I am in between a 14 and a 15 in most pant sizes so I have them labeled with hanging tags on the bottom rung to help with days that I'm feeling more skinny than others!
Being sick has played with my mental being more than I would like
to admit so my weight has really suffered.
I do plan on hitting the gym to get more healthy but mainly for that reason only!
I promise!
Well thanks for stopping by!
W