Now that most my closet is organized all I have left is my vanity,
This is how it looked before,
When we arranged the closet I threw everything in banker boxes until I needed it.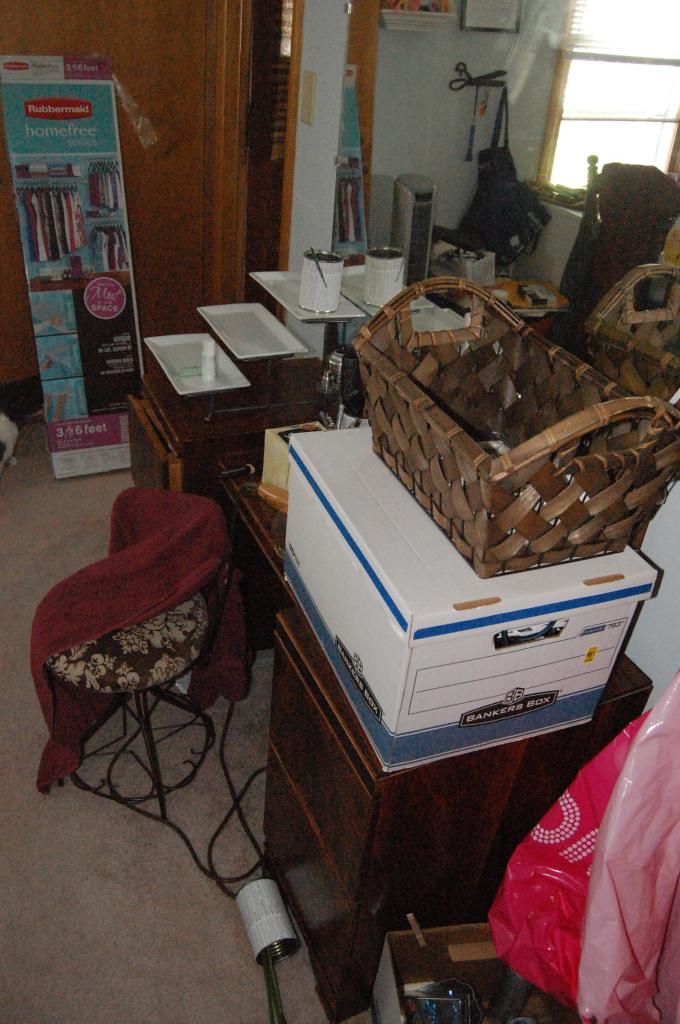 yeah, just go ahead and ignore all the crap in the background.
I finally got the chance today to organize everything mostly.
I didn't have a chance to alphabetize my make up, as I've seen on many pins.
Mostly it gets used and thrown in the drawer.
ANNNNNNNNND
How it looks now
All of my hair supplies that I use regularly hang out on the left and
the more pretty things go on the right.
The brushes I use often hang out in a tin can on the middle.
I simply covered it with a page from an old dictionary.
Yes that is a phone charger plug.
I usually charge my phone while jamming out to my music.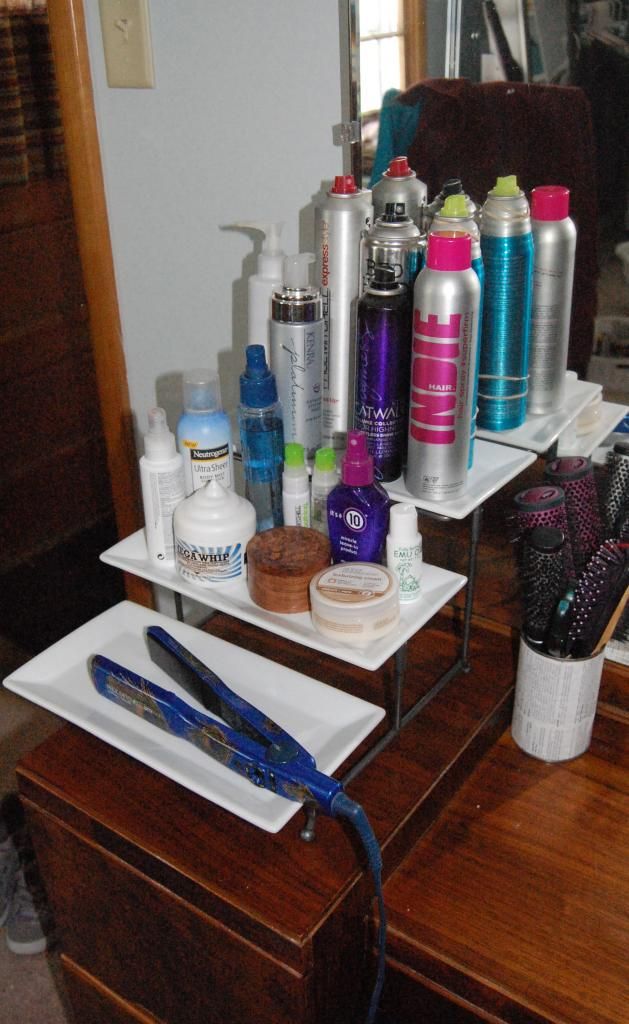 I also keep my hot iron that I have recently used on the bottom serving plate,
to keep the heat from damaging the wood vanity.
The serving plate guy I keep my supplies on was a wedding gift from my cousin and her husband.
It's from JcPenny.
In the top left drawer I keep my most used make up,
This is pretty organized for me, I do have a drawer separator in there, it's not super effective.
Of course if I cared it would be more effective.
The drawer below has a shoe box with less used but still somewhat important stuff.
I'm sure it will fill up with samples and
other lotions that I buy because they smell lovely but I never use.
The top drawer on the right side is empty.
but the bottom holds some hair supplies
okay, with the exception of the vomit bags it is mostly hair clips.
the basket holds pins of different variations still with their packages,
the silver box on the right is small bobby pins in blonde,
I have a huge surplus of neon hair bow clips in the lower right hand side.
The white basket holds variations of bobby pins separated into groups in hair spray caps,
most amazing cheap sorting devices ever!
The 'specimen' cup has small hair elastics in them, you know those tiny rubber bands that end up everywhere in the bottom of the drawer.
The tin can (covered in old dictionary paper) holds roller set clips, aligator clips and stylist hair clips for all of my professional needs.
Underneath the main part I keep all of my hot tools in a basket, next to the power strip.
The curling irons that work hang out in their own tin can, the smoothing irons also get their own and the hair dryer just hangs out in the basket, I usually also have a nozzle or two in there as well.
Thanks for stopping by!
now go organize something!
W